Doesn't your sales team figure out what's in it? Then get acquainted with Tablet Sales App.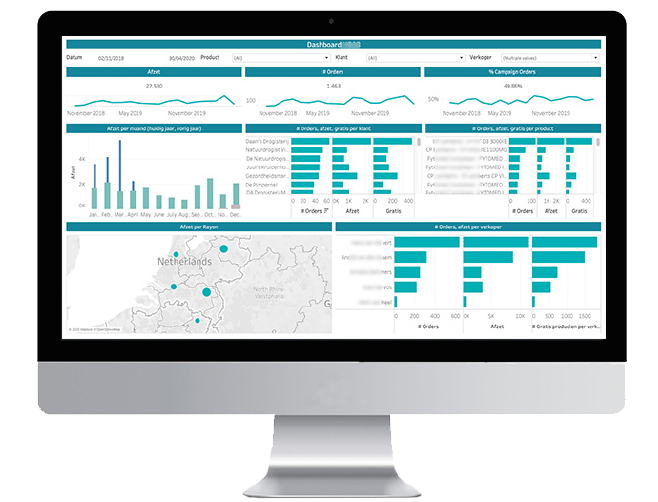 Reliable sales information
Because the app is used throughout the day by the field sales team, an enormous amount of data is generated, which is the source for a range of reports. A comprehensive report for the sales manager that can be used on a weekly basis to manage the performance of the sales team and serve as a basis for new annual plans.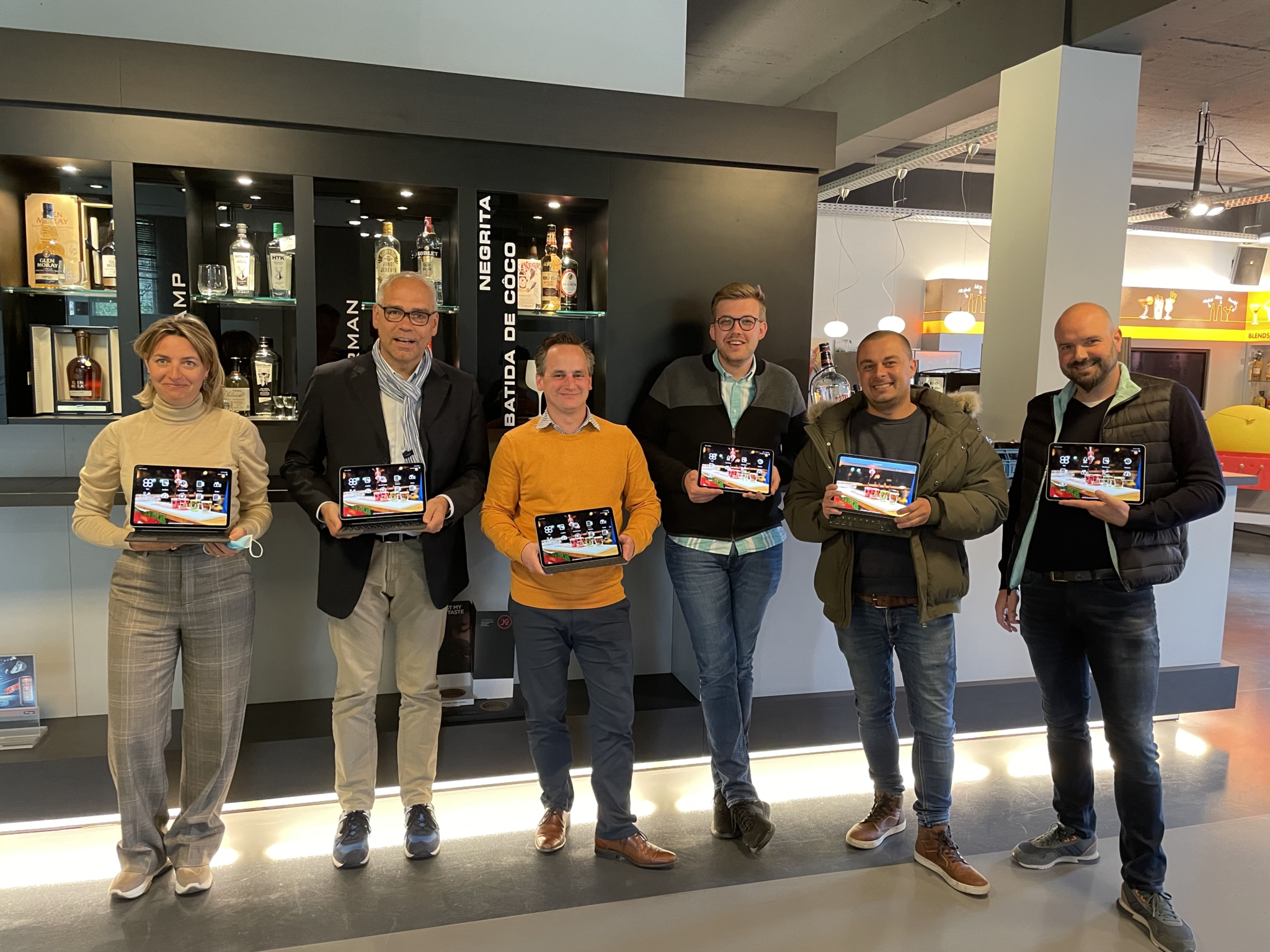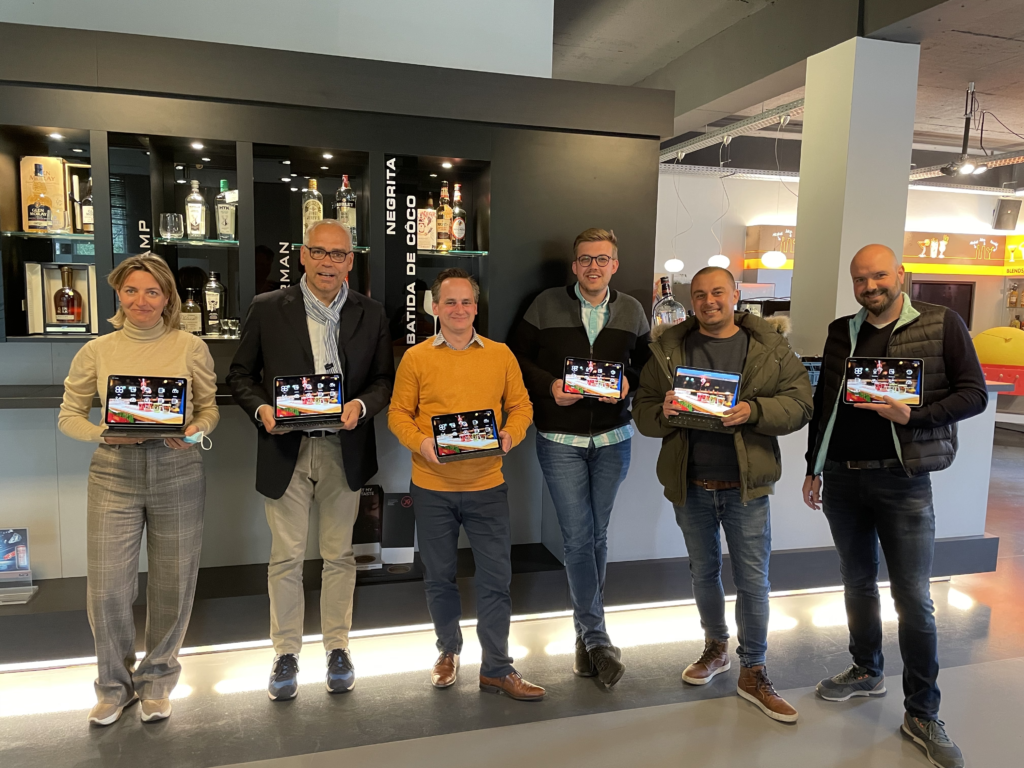 Working together as a well-oiled team
Scheduling and preparing an appointment with a customer or prospect is done in the app. The same goes for the easy creation of a visit report. Sharing information between colleagues and making an order or contract is done quickly and no longer as time-consuming as before. The information is clear to everyone and can easily be shared with third parties.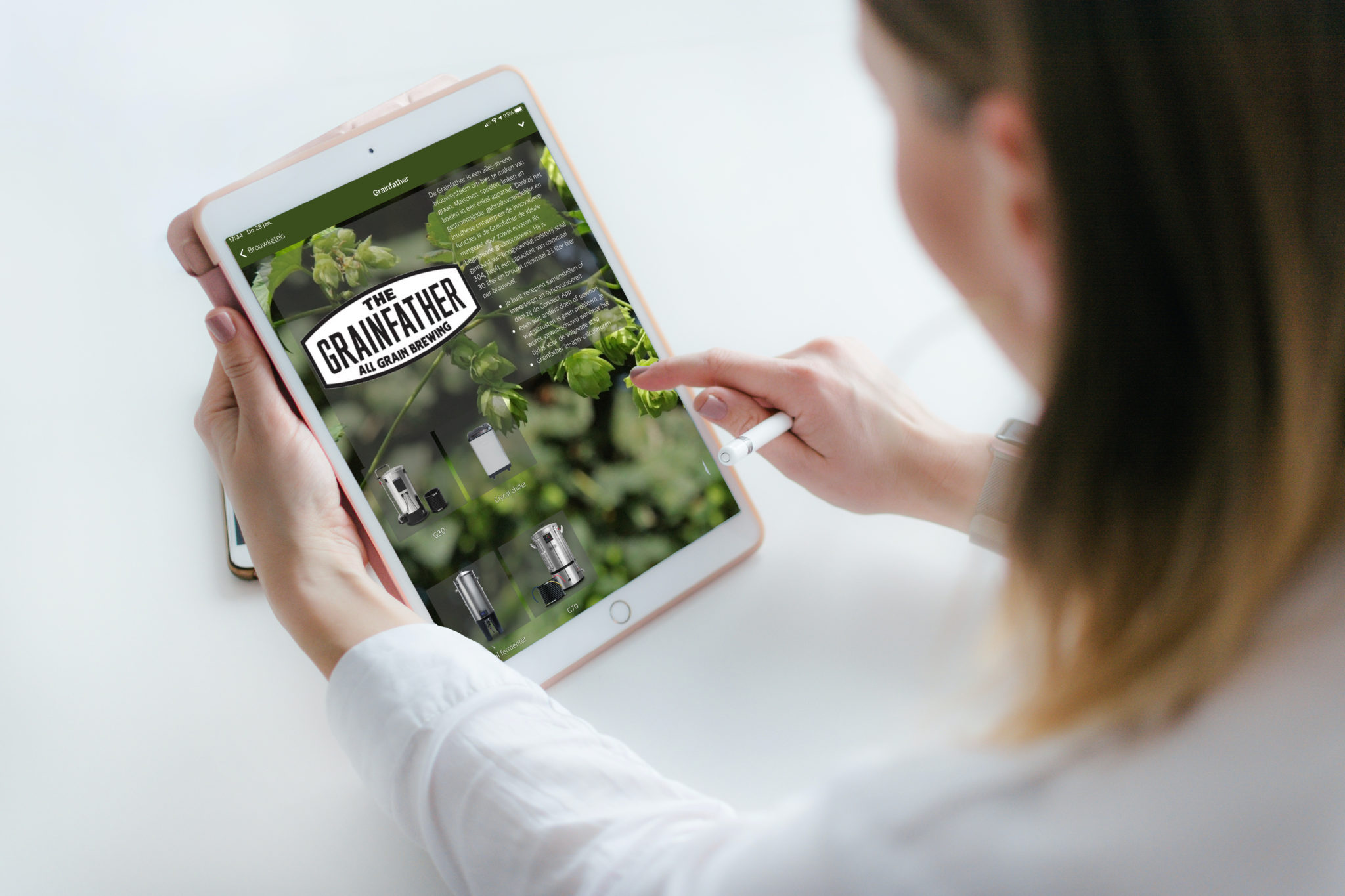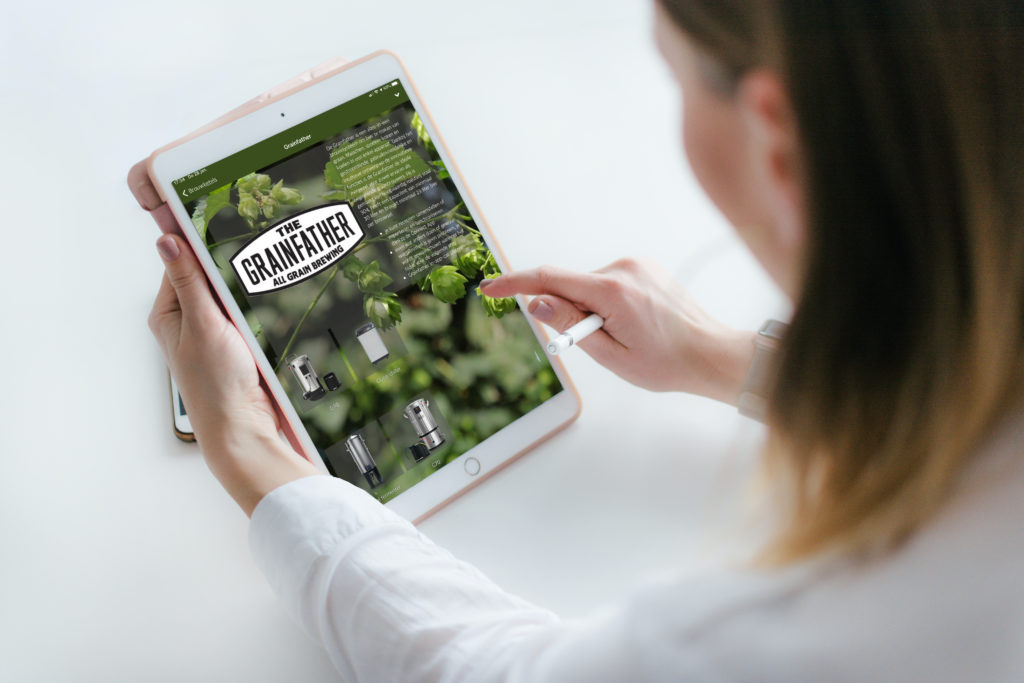 Professional presentation of company and product
Presenting your company and products in a professional way with the Tablet Sales App. In the app movies, presentations, folders, brochures and other documents are shown razor-sharp and smooth. Even if the internet connection is lost for a moment, the presentation can continue – without any loss of quality.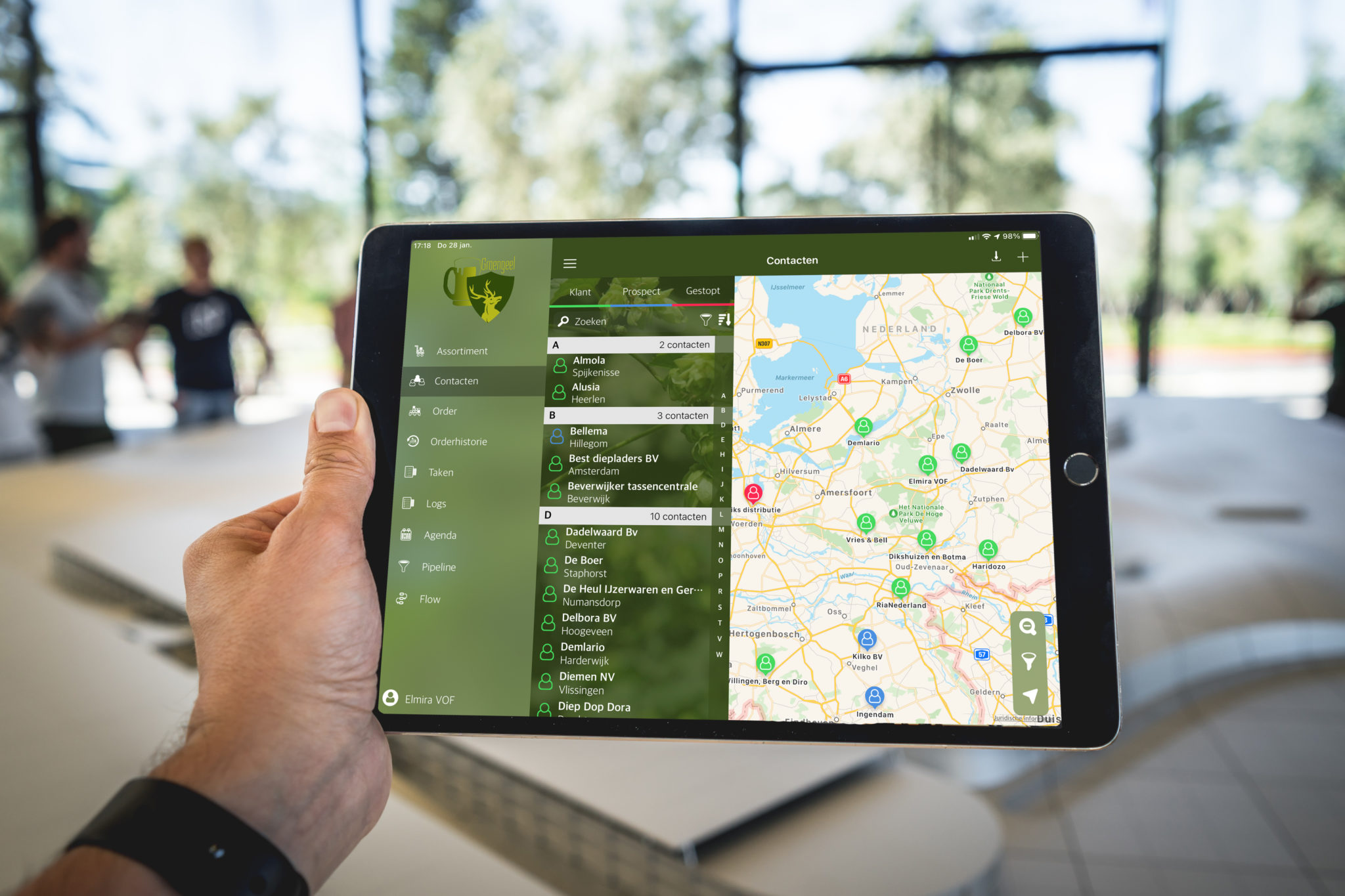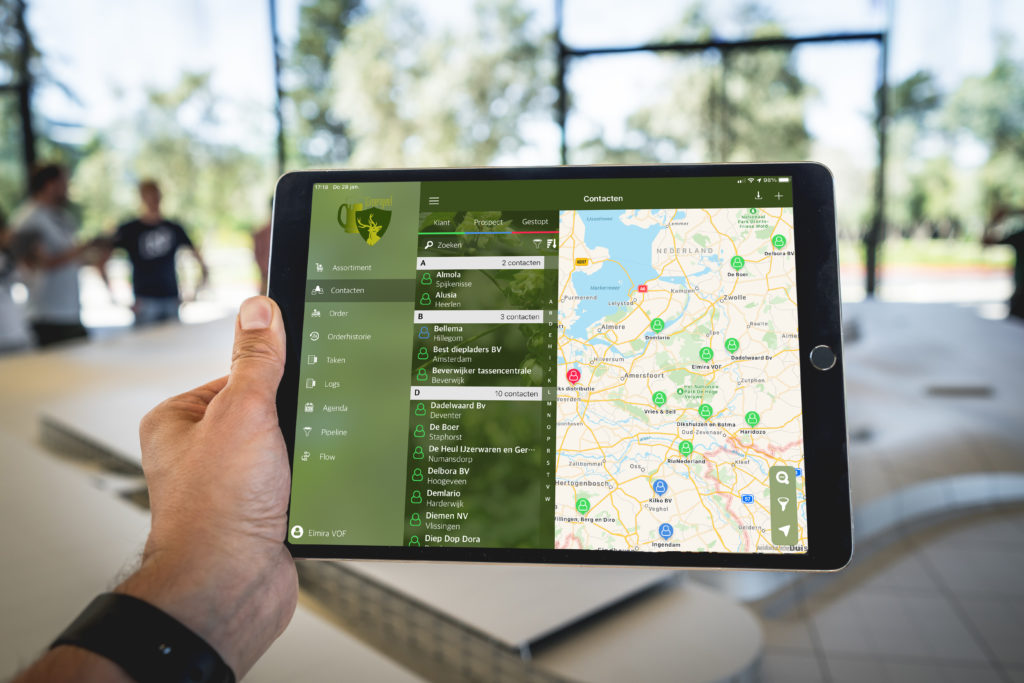 Update your CRM on the go
With the Tablet Sales App, the sales and account manager has all the customer data together, the order history insightful, his visits scheduled by priority and a task list where he/she can filter on the most important tasks. It is also possible to compare the purchase of existing customers in a certain segment with the standard or the optimum. CRM & More: to keep your customers continuously up to date while hardly taking any time.
Why TSA?
It is the best solution for sales teams. TSA is made in consultation with the users. It is very visual and easy to set up, with all kinds of possibilities for customer-specific configurations and settings. By way of illustration: read below a number of problems that are solved by TSA. Is it recognisable? Then please contact us.
Sales director: "I get dissatisfied customers on the line, complaining about things going wrong. They give examples of things we don't have in order and contact moments that we don't know about each other. That's hard to refute, because it's true: we don't work professionally enough".
With TSA you have a complete history of all contact moments for each customer, both from the sales staff as well as the sales office or any other department. You can never miss anything and are always fully informed. And if things are promised or have to be carried out, they are displayed in clear task lists, per customer and per employee, complete with the agreed deadline.
Sales Director: "We are behind on the sales target and I don't have enough resources to make adjustments. Just motivating and sparring is not enough. I want to see the results, so I can compare between sales reps and over time".
With TSA you always know in real time what a sales rep has sold, and what he/she has discussed and agreed with the customer. You also have easy access to the number of visits and contact moments, orders or contracts made, and the number of tasks carried out. In combination with the customer data from TSA, this allows you to make targeted plans and make adjustments. Both for the total and per salesperson.
Sales director: "I have too little grip on the sales reps. I am very dependent on what they tell me and don't know enough about what they do. They do share the successes, but not the failures and certainly not the causes".
With TSA, you always know in real time what a seller is doing, how far they are in executing the account plan, how much they have sold, visited and executed.
Sales director: "The communication within the organisation is not good enough. Too often things are shown or sold that are no longer possible. Too often something has to be corrected or straightened out that wouldn't have had to go wrong at all if all those involved had been properly informed".
TSA only shows articles, customers and marketing content that are currently active and up to date. And the complete contact history of all colleagues with the customer is continuously visible, as well as the outstanding tasks. This greatly reduces the number of errors and associated corrections and leads directly to higher customer appreciation and job satisfaction among colleagues.
Sales director: "I'm too busy to pay enough attention to customers and salespeople. It takes me a lot of time to gather data and information. Because of all this I can't sufficiently challenge and coach the sales reps and I don't have enough strategic customer conversations".
Within TSA, vendors can do their work from A to Z. They can only carry out activities for which they are authorised. And when something has to be done for which they are not authorised, they can forward it to the right person at the push of a button. Sales reps can also see and display all marketing content, but only the content that is up to date. They can share that content with the customer themselves, so they no longer need the customer service or the marketing department for that. In addition, task lists can easily be created. Always with only one task manager, always linked to a customer and always with a deadline. In this way, every employee knows exactly what is expected of him/her and every sales rep can carry out his/her work without the need for colleagues. This is extremely efficient, prevents discussions between colleagues and increases freedom and job satisfaction.
Marketing manager: "I just don't have enough real time numbers to make good marketing policies. This makes marketing much less effective than it could be and that is also the impression the management has of us. I don't know what is discussed with customers and what feedback they give to our sales department".
In TSA real time data is available about what has been sold, what has been visited, how much contact there is with the customer and all contact moments with the customer. There are also options to use questionnaires and visit report sections to obtain uniform and comparable information from customers.
Marketing manager: "There are out-dated versions of marketing materials in circulation and I have absolutely no idea how often which content piece is used. This makes me guess which type of content leads to the best result".
Within TSA, all marketing content can be easily and conveniently stored and categorised. It is then possible to set which user is allowed to see which content. Only one version of each content piece is required. Thanks to the smart layout, everyone knows how to find the right content. It is possible to measure which content is used and shared how often. This is extra data to continuously improve the content.
Marketing manager: "In discussions I often have no response for sales. I suspect that sales doesn't always do what has been agreed, but I can't prove it. That makes me suspicious and that's what people feel".
With TSA you always know in real time what a sales rep has sold, and what he/she has discussed and agreed with the customer. You also have easy access to the number of visits and contact moments, orders or contracts made, and the number of tasks carried out. In combination with the customer data from TSA, this allows you to make targeted plans and make adjustments. Both for sales and marketing.
Marketing manager: "I could achieve much more with effective deployment of campaigns. If I could just demonstrate with real time numbers what the effects of the campaigns were …".
In TSA you can see in real time how campaigns are running. It's clear which clients have carried out the campaign and what the results and revenues are. This makes it easy to compare the effect of campaigns and to steer them.
Other reasons:
TSA is a relatively low-threshold programme.
TSA has been developed from the vendor's perspective and is very valuable for the manager.
TSA has a wide range of functionalities, all for the commercial employee.
TSA combines Marketing and Sales modules. This makes TSA unique.
TSA is multilingual on 3 levels (languages, content and currency).
TSA can support different Business Units within one company.
TSA is fully customisable.
TSA can be used in many different industries and for a wide range of processes.
TSA is based on standard software and also easy to configure (customer-specific to make).
TSA can be used in video call as a front sales tool.
TSA runs securely in the European cloud and can be used both online and offline.
TSA is a Sales app with an advanced back-end tool.
TSA can exchange data with other systems via the standard REST-API.